"Gemeinsam gegen Austerität und soziale Ungerechtigkeit"
Welchen Ausgang der Kampf gegen die Austerität nimmt, bestimmt nicht nur die Zukunft der Griech_innen, sondern auch jene der Europäer_innen.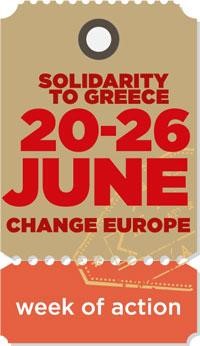 Die früheren griechischen Regierungen machten Griechenland zum europäischen Versuchskaninchen; jetzt ist es jedoch ein gutes Beispiel für ein Land geworden, das gewisse Mächte in die Knie zwingen wollen.
Daher ist es wichtig, dem Druck seitens der EU-Institutionen, der die griechische Gesellschaft zu ersticken droht, eine kämpferische europäische soziale und politische Front entgegenzustellen. So können die Austeritätsprogramme, die die ehemaligen Regierungen vor vier Jahren mit katastrophalen Folgen eingeführt haben, außer Kraft gesetzt werden. Die griechische Bevölkerung verurteilte mit ihrer Entscheidung vom 25. Januar die Austeritätspolitik sowie die arbeitsmarktschädigende Gesetzgebung und die Privatisierungsvorhaben. Syriza hat die Forderungen der Gewerkschaften und sozialen Bewegungen Europas der letzten zehn Jahre in ihre politischen Forderungen übernommen; jetzt brauchen wir die Unterstützung dieser Bewegungen, um dem Druck standzuhalten und progressive Programme mit dem Ziel der sozialen Gerechtigkeit umzusetzen. Die Vertreter_innen der griechischen Bevölkerung verteidigen soziale Gerechtigkeit und Demokratie, wovor sich die europäische Obrigkeit jedoch fürchtet; daher bestraft sie die Bevölkerung: Das dürfen wir nicht geschehen lassen!
Bis Juni finden Verhandlungen zwischen der griechischen Regierung und den europäischen Institutionen statt. Für die Wirtschaftselite ist es schwierig zu akzeptieren, dass jemand ihre Politik kritisiert und alternative wirtschaftspolitische Maßnahmen vorschlägt. Ihr sind alle Mittel recht, die dazu dienen, die griechische Bevölkerung und ihre Regierung zu erpressen. Zeigt uns, dass wir in diesem Kampf nicht alleine sind!
Wir müssen Druck auf diese Institutionen ausüben, um ihrem inakzeptablen Verhalten ein Ende zu setzen und sie einsehen lassen, dass die europäische Bevölkerung über ihre Zukunft selbst bestimmen muss. In Anlehnung an die Entscheidungen, die im Zuge des Treffens in Athen am 2. Mai gefällt wurden, schlagen wir – eine breite Koalition aus gesellschaftlichen Organisationen, Gewerkschaften, Netzwerken, Intellektuellen, Künstler_innen, Migrant_innenorganisationen und verschiedenen linken, grünen und progressiven politischen Kräften, die in Griechenland aktiv sind –internationale Aktionen zwischen 20. und 26. Juni vor, um ein positives soziales und politisches Umfeld für den Kampf der Griech_innen zu schaffen. Darüber hinaus wollen wir hier in Athen am 27. Juni eine Veranstaltung organisieren, bei der wir unsere Erfahrungen mit Mobilisierungen und Solidarität teilen wollen. Es ist wichtig, dass die Europäer_innen von passiven Beobachter_innen zu aktiv Handelnden werden.
Diese Veranstaltung wird den Akteur_innen den notwendigen Raum bieten, um ihren Sorgen und Bedenken bezüglich der Verhandlungen Ausdruck zu verleihen. Vor allem aber soll sie auf die Notwendigkeit hinweisen, dem systemischen Druck gegen die Forderungen der griechischen Regierung nach einer Abkehr von der Austeritätspolitik und nach sozialer Gerechtigkeit Konter zu bieten. Es ist von allergrößter Wichtigkeit, eine klare politische Botschaft zu senden. Die griechische Bevölkerung ist hier aber nicht allein. Wir müssen zeigen, dass wir alle fest entschlossen sind, die langfristigen Forderungen der Bewegung zu unterstützen. Die Griech_innen haben eine linke Regierung gewählt, um den neoliberalen Konsens zu brechen. Mit gelebter Solidarität und durch die breite Unterstützung seitens der Bevölkerung wird sie ihr Bestes tun, um ein wirksames Gegengewicht zur europäischen und wirtschaftlichen Elite darzustellen.
Kämpfen wir für ein würdevolles, solidarisches Europa und gegen ein Europa der Profite und eine Festung Europa! Wir rufen alle gesellschaftlichen und politischen Kräfte dazu auf, sich in die Woche der Solidarität einzubringen und starke nationale Koalitionen aufzubauen, die den europäischen Kampf gegen die Austeritätspolitik unterstützen.
Übersetzung: Veronika Peterseil
http://www.transform-network.net/de/blog/blog-2015/news/detail/Blog/-f5a37e726c.html
Unterzeichnende 

Unionists
Trachanatzis Stathis – General Secretary of Athens Labour Unions Organization & Member of the Board of the General Confederation of Greek Workers
Amplas Themistocles – Chairman of the Board of Greek Transport Trade Union Federation
Kioutsokioglou-Poulaki Anna – General Secretary Panhellinc Federation of Tax Employees .
Nouchakis Stavros – President of the Panhellenic Federation of Medical Representatives, Related Professions Pharmaceutical Industry
Stamatis Theodoropoulos – Board Member GENOP / PPC
Karagounis Athanasios – Board member of the Federation Administrative Employees Manpower Employment Organisation
Parasoglou Vangelis – Chairman of the Board of the Association of Workers in BSH
Pasalidis Costas – Board Member SPARTAKOS / PPC
Capella Kazatza Dimitrios – Board Member GENOP / PPC, Member of the Labour Centre of Trikala
Moutakis Fotis – member DEI GENOP
Xydakis Nikos – President of the Union of Electric Workers Bus Athens Piraeus
Κelepoyris Paraskevas – member of the board of Electric Workers Bus Athens Piraeus
Saridakis Antonis – member of the board of Electric Workers Bus Athens Piraeus
Fragos John – member of the board of Electric Workers Bus Athens Piraeus
Ziogas Apostolis – member of the board of Electric Workers Bus Athens Piraeus
Karasoulos Dimitris – President member of the board of Electric administrators Employees Bus Athens Piraeus
Kakoyros Dimitris – President administrators of the board of Electric Workers Bus Athens Piraeus
Vouziouris Alex – President of administrators employees of Road Transport
Tegea Michael – Secretary Union Technical PPC / Aitoloakarnania
Kastrounis Sotiris – President BTB–EIF / PPC Paros
Mihalatos Thomas-Dimitrios – Board Member GENOP / PPC
Dimitris Papachristou – Chairman of the Workers' Association Board of Directors in Nursing Home Athens
Paloukas Lefteris – Board Member GENOP / PPC
Damianos Vassilis – Board Pensioners Federation PPC
Nouchoutidis Maria – Board Pensioners Federation PPC
Nouchoutidis George – ex. President Dockers Piraeus
Apollonatos Memangelos – Board member of the Association of Hospital Workers IASO
Lampos Socrates – President Association Medical Representatives Athens
Kalavanos John – Board member of Union Workers newsagents Athens
Boutsinas Stavros – Board member of Bank of Piraeus Workers Association
Taliakos Dimitris – Board of Association of Employees Bank Piraeus
Bellios Fotis – Board of Association of Employees Bank Piraeus
Arabpatzi Nasa – Member of Audit Committee of Association of Employees Bank Piraeus
Papatriantafyllou Nikos – board member of the General Confederation of Greek Workers and member of the board of the National Bank Employees Association
Mylonas Giorgos – Deputy Executive Secretary of Athens Labour Unions Organization
Anastasiou Yannis – member of the Executive Secretariat of the Federation Employees of Bank
Kavadias Antonis – member of Executive Secretarial of the Federation Employees of Bank
Tziva Emilia – member of the General Council of the Federation Employees of Bank
Nicholaou Naya – board member of the Association of Employees of the bank Eurobank
Sklavainas Andreas – board member of the Association of Employees of the bank Eurobank
Spyropoulos George – board member of the Association of Employees of the bank Eurobank
Kanavou Joanna – board member of the Association of Employees of the National Bank
Petropoulos George – Member of the Executive Committee of ADEDY
Kalomoiris Gregory – Member of the Executive Committee of ADEDY
Mercia Dimitris – Member of the Executive Committee of ADEDY
Zografaki Eleni – Vice OLME
Harisis George – General Secretary of POST and member of the General Council of the Panhellenic Federation of Workers of Local Government organizations
Vassilis Gkitakos – Vice Panhellenic Federation of Workers of Local Government organizations
Monastiridis Minas – member of the Executive Committee of the Panhellenic Federation of Workers of Local Government–organizations
 Organizations
DIKTIO (NETWORK FOR POLITICAL AND SOCIAL RIGHTS) 
NETWORK OF IMMIGRANTS AND POLITICAL REFUGEES 
NIKOS POULANTZAS INSTITUTE 
SOLIDARITY FOR ALL 
ATTAC  GREECE 
OPEN CITY (PLATFORM FOR THE MUNICIPALITY OF ATHENS) 
INITIATIVE FOR THE RIGHTS OF PRISONERS 
SAVE ACHELOOS RIVER  
ECOLOGISTS RADICALS
NETWORK OF YOUNG PRECARIOUS EMPLOEEYS 
OBSERVATORY OF INTERNATIONAL ORGANISATIONS AND GLOBALISATION  
CO–ORDINATING COMMITTEE OF THE CLEANING WOMEN OF THE MINISTRY OF FINANCE 
Activists/ public personalities
ALBANIS YANNIS – member of the Organizing Committee of the ESF Athens 
BIRBAS DIMITRIS – Mayor of Municipality of Egaleo city
GEORGOULAS STRATOS – Assistant Professor of the University of Aegean and member of the Council of the Municipality of island Lesvos
GIANNOPOULOS NIKOS – member of the Organizing Committee of the ESF Athens
KALIVIS ALEKOS – ex deputy President of GSEE
KOUMARIANOS GRIGORIS – Vice Mayor of Municipality of New Filadelfia city
PEPES ZOIS – ex member of the General Secretariat of GSEE (Central Federation of Greek Workers) 
TRIGAZIS PANOS – President of the Observatory of International Organisations and Globalisation
VASILOPOULOS ARIS – Mayor of Municipality of New Filadelfia city
LAMTZIDIS MANOLIS – Member of the City Council of Kalmaria